Welcome to Shen Garden Acupuncture
Where ancient wisdom meets modern times
Shen Garden from Dylan Howard on Vimeo.
Acupuncture is a holistic healing modality that can help your body return to health naturally. Acupuncture is a complete system of medicine that has been around for over 2000 years. The beauty of acupuncture is that there is nothing in the needles. In most cases your body contains all that is required for it to heal and transform. Acupuncture helps you to tap into your own capacity to heal. Whether you are looking to heal from a physical injury or traumatic emotional event acupuncture can help. If you are looking for more energy or to strengthen your immune system acupuncture can help. If you are feeling overwhelmed, stressed and can't sleep acupuncture can help. If you are tired, depressed and feel hopeless, acupuncture can help. If you have lower back pain, knee pain or shoulder pain and trying to avoid surgery, acupuncture can help. Because acupuncture has a full spectrum balancing effect, there is very little that acupuncture can't help with. For many, the effects are immediate and dramatic.
As a Classical Five Element style acupuncturist here in Rhode Island my intention is to see you more as a client that is full of hidden potential then as a patient that needs to be fixed. I work one on one seeing only one client at a time. Each hour session we spend together will be solely focused on your needs. Each session will include an ongoing discussion as we explore into the root of the imbalance that is manifesting physically and emotionally in your life. With each session specific acupuncture points will be utilized that best match where you are along your unique healing journey.
If you are willing to do your part and interested in going deeper in order to unlock the potential buried beneath your illness and experience real healing then Classical Five Element acupuncture can help.
If you would like to learn more about the Five Elements and how they affect your daily life please click on the Five Elements and see if you can tell which of your Elements may be in need of support.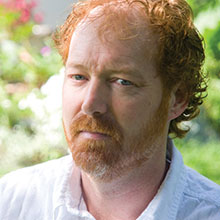 Dr. Dan Howard
Dan Howard received his Masters degree in Acupuncture from The Academy For Five Element Acupuncture in Hallandale, Florida. He successfully completed the Chinese Herbal Medicine program at The Academy and went on to complete the Advanced Herbal Studies, as well as the Whole Heart Acupuncture Program, with renowned teacher Thea Elijah. Dan graduated with a Masters in Divinity degree at the University of Spiritual Healing & Sufism. Dan is a NCCAOM board- certified acupuncturist and holds a Doctor of Acupuncture license in the state of Rhode Island.